Shift Leader
Shift Leader
Le Pain Quotidien NL
Amsterdam +
What is required?
Relevant hospitality experience
Very customer-friendly, able to work well in a team and excellent communication skills
Good command of Dutch and English language, other languages are a plus
Prepared to work different (weekend) shifts
What will you get?
€12.80 gross per hour starting salary (including holiday allowance, depending on age), excluding tips
16 to 38 hour workweek
Order meals from the card for a small fee (based on current tax regulations)
Staff discount
Team events and various training sessions
What will you do?
45% Serving guests
30% Cleaning and restocking
15% Working behind the counter
10% Supervising colleagues
This vacancy has been created based on interviews with employees to help you get a realistic preview of the job.
Vacancy
As a Shift Leader at Le Pain Quotidien, you are responsible for everything in the restaurant running smoothly. When you have your first shift, you open the shop and make sure everything is set out on the terrace and the bread loaves are ready. You also make a schedule of who is going to do what that day.  During the day, you serve your own area where you take care of your guests, or you stand behind the counter to sell bread and take away coffee. You help colleagues with questions or problems and make sure everyone takes a break on time. If you have a closing shift, you make sure that everything is cleaned up properly. You'll divide up the cleaning tasks and make sure that the restaurant is left tidy for the next day. You may also be responsible for counting at the cash register.
You will be working in a changing team that consists of Hosts, Shift Leaders, Assistant Managers and Managers. Depending on the day and the predicted crowds, you will work with a varying number of colleagues.
If you enjoy working with people and being hospitable throughout the day, and find it challenging to step up and be resilient during busy times, then this is a job for you.
Working week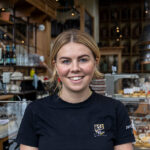 Shift Leader
Lenka
On an enjoyable working day, the weather is nice and you are working on the terrace. The guests are cheerful and you end the day with pleasant colleagues.
On a less enjoyable day, most guests arrive around the same time. Then it's a bit of a struggle, but together you get it done.
A guest orders a dish with an ingredient that is unfortunately just sold out. How do you solve this?
You go to the guest with this message and suggest a good alternative. You also apologize and possibly help the guest make a new choice. If the customer has ordered a replacement dish, you make sure that you also process this in the system. Then the administration is also correct again.
Growth
Growth is one of the four cultural pillars at Le Pain Quotidien. Le Pain Quotidien invests in training, development and team building of all employees. It even has its own training curriculum and academy: the Farming Academy. Here Hosts inspire each other and learn from each other to become even better Hosts and where quality and authenticity are of paramount importance.
Working at Le Pain Quotidien NL
Le Pain Quotidien (French for 'daily bread') is a bakery-restaurant chain founded in 1990 by Alain Coumont. Alain was dissatisfied with the quality of bread in Brussels, so he started making his own sourdough bread using only four ingredients: water, flour, salt and time. Now Le Pain Quotidien has more than two hundred restaurants in fifteen countries, spread over three continents.
Headquarters in Brussels, Amsterdam, London and Paris

Several restaurants in Amsterdam

5.000 employees worldwide

85 werknemers in the Netherlands

Active in 15 countries

41% / 59%

Average age 29 years

Black outerwear
Colleagues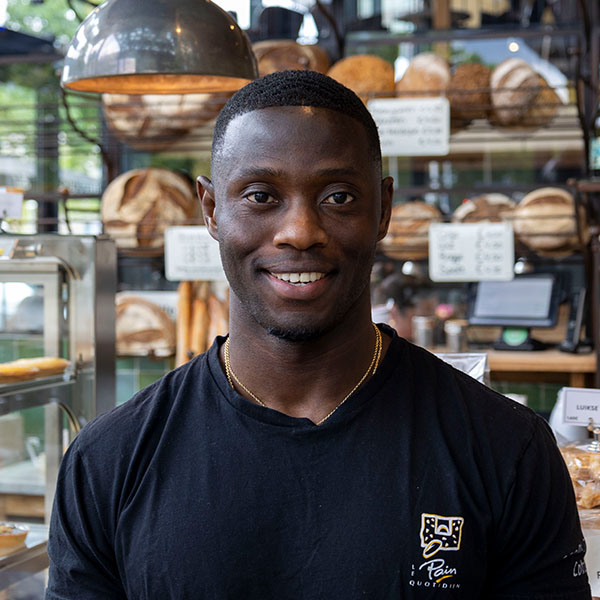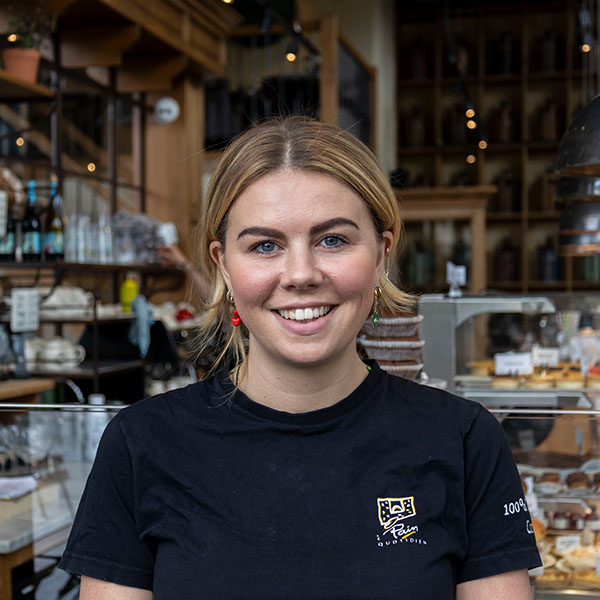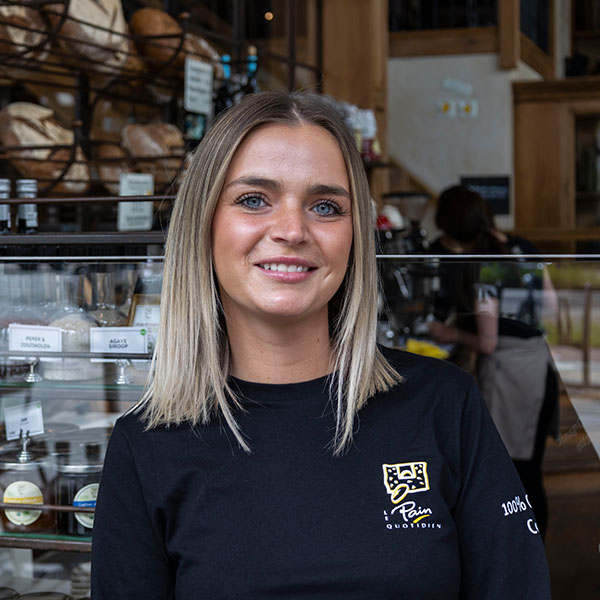 Emmanuel Kofi - Kitchen Host
Why did you decide to work for this company?
Food makes people happy and especially good food makes people happy! There are not many other jobs where you can make people happy every day. It's good to see your regulars come in knowing they've come because they love the food and services you provide as a Kitchen Assistant.
What did you study?
Bsc Marketing and Informatica.
What do you do in your spare time?
Shopping, working out and clubbing with friends.
Lenka - Shiftleader
Why did you decide to work for this company?
The favorable working hours, the pleasant working atmosphere and the opportunities that are offered.
What was your previous job?
Host
Margot - Host
Why did you decide to work for this company?
Le Pain Quotidien was already known to me, I went there several times for breakfast. My sister started there as a student and once a shop opened near where I lived I saw my chance to start there.
What was your previous job?
Student at Carrefour.
What do you do in your spare time?
Going out for drinks and good food.